Important Message to MASS ACTION Supporters and Followers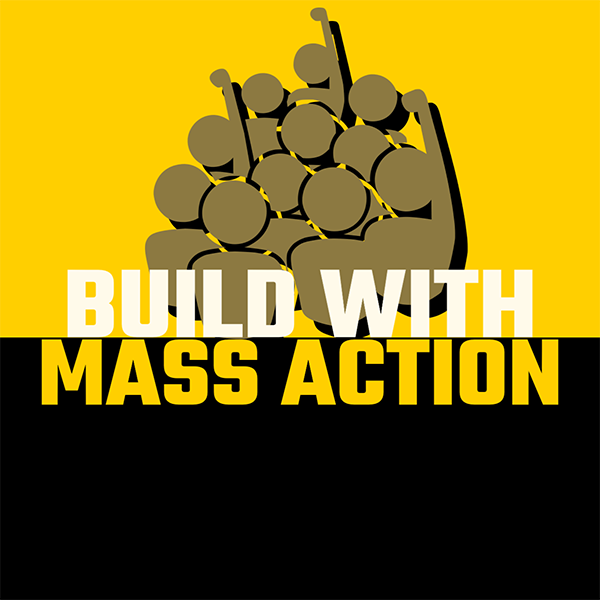 You are getting this important message and appeal for help and collaboration because you have liked or have shown interest in the work of MASS ACTION and/or MASS ACTION founder John Beacham.
We wanted to make sure you are aware of all MASS ACTION's media efforts and how you can get involved. We want to deepen and expand our relationship with you. We want to help each other build a movement powerful enough to end white supremacy and imperialist war and save the environment.
Getting involved
Join our e-mail and/or our text list. Get the latest updates, news, articles, podcasts and more!
Write for/Contribute to MASS ACTION. We are currently looking for people to contribute reports from the front lines of the struggle, political analysis and more! Fill out the survey or e-mail us at editor@mass-action.org
Follow and share MASS ACTION Podcast on Soundcloud, Spotify, iTunes (search for MASS ACTION) or on most podcast apps.
Follow MASS ACTION founder John Beacham on Facebook and Twitter
Support MASS ACTION
Become a Patron for $2, $10 or more a month. Invite others to become patrons. This is crucial to the continued existence and expansion of MASS ACTION!
Make a donation, large or small, to our GoFundMe. Share the GoFundMe. Every penny goes to building our movements.
Subscribe to MASS ACTION's YouTube channel. An exciting new component!
Like the MASS ACTION facebook page and invite your friends. Help us reach 1,000 likes!
Visit and share the MASS ACTION website. Updated regularly with new content.
Check out John Beacham's new book of poems: On the Pandemic, To the Rising
Do not hesitate to email at editor@mass-action.org or call John at 773-885-3991
Thank you! Together we can take on the great crises confronting us, organize to overcome them and put the reins of society in the hands of the many, not the few!